Strategic Planning Outline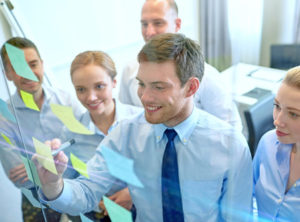 Many behavioral Healthcare enterprises often assume they are simply too big and complex to build a developmentally sound strategic planning outline. And this attitude is especially true when the absence of a strategic plan has not necessarily been a cause for problems in the past. Nevertheless, this leadership gap in developing a strategic plan has often been counted as one of the chief catalysts contributing to business failures. Being a manager in today's high stakes business environment takes constant vigilance in order to take advantage of new opportunities and new information technologies as they are introduced.
The first step in the road to any successful venture is having a series of action steps the management team can follow:
Mission Statement –
The first step in the strategic planning process is an assessment of the market place. Businesses depend on consumers for their existence. If we were facing a rapidly growing consumer base, we'd probably plan differently than if the patient census were stable or shrinking.  The outcome of this self-assessment process is known as the mission statement.  Another definition suggests the mission statement is the primary objective that identifies an organization's current and future business. 
Defining the Organization –
A primary concern in defining a mission statement is addressing the question of what segment of the health business we are really in? Answering this may seem fairly easy: however, it can be a complex task. Determining the nature of our business should not be strictly tied to specific products or services currently being produced. Rather, it must be tied to looking at all of the organizations potential markets — underlying social functions — and the competencies we've developed in servicing the current market. The primary reason the small behavioral health operations frequently fail is because they operate within a too narrowly defined consumer base.   
Organizational Values –
Once the mission statement is defined, the next step is to articulate the organization's basic philosophy. Such a statement will help explain to staff and members how the management team would like to see the facility operate. How much risk taking is considered appropriate, or will the organization prefer to build operations slowly from a solid financial base? How can the operation most effectively relate to future patients, suppliers and competitors?
Organizational Goals –
Goals are defined as broad, ideal conditions. Goals become the shared purposes of administration and staff plus, it is much easier to get the support of all employees when there is a clear understanding of what needs to be accomplished. The next step is to set clear goals to guide and maintain the business on a path consistent with its mission. To summarize, goals serve to:
Identify the nature of the organization and level of commitment
Clarify what goals the organization is pursuing 
Help an organization to change by showing differences between goals and actual progress –
Serve as a standard of assessment
Provide a rationale for strategic planning
 Operational Objectives –
An objective has to fit within a priority network of other objectives that together contribute to the firm's ultimate goals and mission. This system of setting priorities is called a hierarchy of objectives. Accomplishing a goal requires establishing and achieving several specific objectives, which must be:
Clear, concise and attainable.
Capable of being measured
Have a target date for completion.
Includes persons responsible for taking action.
Arranged according to priority order
In determining appropriate goals, behavioral health services will need to consider how future services will fit within the medical healthcare industry and the broader business environment. Several trends may well affect economic prospects. Examples may include shifts in population (e.g., the purchasing status of baby boomers), trends in the economy, technological developments, changes in 3rd party insurance reimbursement, new health legislation, and the activities of special interest groups.
An immediate need of most behavioral health organizations is the capability of monitoring new changes in the marketplace.  Events that can be anticipated with an effective forecasting system include:
Technological breakthroughs.
New competitors or new competition entering the market place.
Changes in the cost and availability of services.
Major shifts in patient wants, needs and trends
Although many trends and changes are sometimes difficult to anticipate, managers should never be deterred from trying to predict paradigm shifts.