CARF Survey Process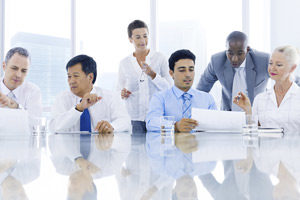 Once the organization's CARF survey application is deemed complete, CARF will send a scheduling letter to the facility advising management of the exact dates and number of days the survey will take, including the names of the team members assigned to do the survey.
Two weeks – prior to the date of your CARF survey, the assigned Administrative Surveyor will contact your administrator who you will have designated as the contact person for the survey. He/she will clarify the dates and determine with you the day one start time and location. This is a good time to ask any questions you may have regarding the conduct of the survey etc. If you have multiple sites to be surveyed, the administrative surveyor will want to discuss the locations, driving times etc with you in detail to be sure all bases are covered and the surveyors know exactly what and where to survey each location.
You may jointly decide to change this schedule at this time if CARF has not identified the most efficient schedule. At this time, the administrative surveyor may also request some documents from you that the team can review the evening before the survey begins at their hotel location. This is especially helpful in orienting the team to your program and services and saves them time on site.
Day 1: This day begins at the time and location you specify and generally includes all management staff or whoever your administrator deems appropriate. The first order of the day is the ORIENTATION meeting in which you meet your surveyors, learn about them and their backgrounds and introduce yourselves. You may elect to provide a brief [no more than 15 minute] orientation to your program or to some particular aspect you feel surveyors may need to understand. Following the orientation meeting, there will be a facility walk through by at least the administrative surveyor. Other team members will join this walk through if your services are generally being conducted in one location.
Where there are many other locations, surveyors will likely immediately depart for their respective sites which have been previously assigned based upon the surveyor's background and experience. A member of your staff will be assigned to transport each surveyor and act as a resource aide to them. This may occur continuously throughout the survey or you may elect to have a resource aide at each site. In the case of large programs with remote locations, surveyors often drive themselves or fly into the location and participate in the orientation conference telephonically or electronically, your choice. Each surveyor will determine how lunch is to be. Some prefer to have lunch brought on site and others will want to go to a restaurant. This is a decision that can be made between you and the surveyor early in the day or whenever the surveyor is ready to make that decision. Surveyors pay for their own meals.
One of the hallmarks of the CARF survey process is that it is consultative in nature and considerable time is time spent in interviews with staff and with consumers. The idea is for you to discuss ideas, issues and obtain the view of surveyors about how best to meet a standard or to improve your compliance. You should plan to have at least one consumer available to be interviewed for each program you are having accredited. You select who this will be.
The CARF surveyor will request to talk to staff and may specify which staff they wish to interview. This is a discussion you should have each day early in the day so staff are alerted and can be available. Time is short and surveyors need to be very efficient. It will be appreciated if interviews can be arranged on site and on time. Document review will also be done at each location and it will help the surveyor if your manuals are readily available in a designated room where they can be read. The day will end generally prior to 5 p.m and you should arrange transportation for each surveyor back to their hotel or to the main location where the administrative surveyor will have a rental car. You should clarify with each surveyor what the next day plan is, who will be transporting to the site etc. and at what time. Surveyors normally spend each evening reviewing materials and initiating report writing.
Day 2: This day continues the survey process until all sites have been reviewed. The number of survey days will depend upon the size of your organization and location of sites. Generally, surveys are 3 days but they can be one day shorter or 1 day longer depending upon the size and complexity of your organization.
Day 3: If this is the final day of your survey, your team will want to be together in a location where they can bring their lap tops and jointly begin report writing. Some surveyors may need to re-visit a location or need more time to complete their survey work this morning. The administrative surveyor will meet with your administrator and establish a time for the EXIT CONFERENCE. Generally, this usually happens around 2 p.m. the final day of the survey.
This morning in particular, is also a good time for you to show the surveyor[s] any items you think they may have missed or misunderstood. The administrator of your program may request an early exit interview [generally held around 11 a.m.] if he/she wishes to have a preview of the findings. This conference does not go in depth regarding findings but gives a broad overview and is a time when any problem areas can be noted which gives you time to offer additional materials for surveyor review. Surveyors may correct their ratings at any time up to the exit conference based upon your input or new documentation you may offer.
The exit conference: is fairly formal with surveyors sharing their findings. The terms they will use are, SUGGESTIONS, RECOMMENDATIONS, when reviewing each section of the manual and their findings related to that area. Suggestions are thoughts and ideas surveyors may have that they believe could help the organization improve something. In some cases, surveyors may offer a suggestion because they believe you are close to being less than in full compliance with a standard and feel their suggestion could improve your compliance.The team will also share what they believe are strengths of your organization, at the conclusion of the conference.You are not obligated to do anything with the surveyor suggestions. You may take them or leave them.
Recommendations on the other hand, are ratings of standards where there is either no compliance or only partial compliance which you must correct.
These areas must become the focus of your quality improvement plan that you will submit to CARF within 90 days of your survey.