Loren Hoffman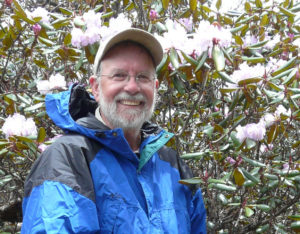 "Successfully managing within the work setting is all about how we can most productively use one another's time and attention."
Given the little available time during the average work day, behavioral health leaders must determine their Work Teams progress towards achieving performance objectives. In this process, continuously measuring the quality of services being produced is essential for customer satisfaction. One of the questions Loren Hoffman has spent time figuring out, is how leaders can successfully interpret this health care environment that is moving and changing faster than ever. His conclusion is really part genius and far reaching when you think about it.
"One of the most important roles of today's leader has to be that of interpreting and simplifying complex data into useable bites.  Their next step, is to direct their Work Teams' most effective use of the organizations' scarce resources."
Health Care work is all about how we use our time, knowledge and energies as well as how we use our staff's time and resources more effectively. Given just minutes, effective leaders can effect how staff think, their top priorities and the quality of services the organization ultimately produces.
Among Hoffman's hallmark of accomplishments is his pioneering work at major universities and dedicated service to both government and private industry. His management credentials include a significant record of excellence – currently as an Accreditation Consultant and Surveyor with the Commission on Accreditation of Health Care Facilities (CARF), a Senior Management Consultant followed by his advanced work as a Faculty Member with Wayne State University School of Social Work, Supervisor with Wayne State University School of Medicine – Northville Regional Psychiatric Hospital Special Studies and Treatment Unit, President/Director of Westside Mental Health Services are only a few highlights of the many distinguished positions in a pantheon of experience. Together with his numerous National Awards Memberships, appointments to Special Commissions and Service Boards Loren's academic studies include a Masters of Social Work Degree from Wayne State University, Bachelor of Arts Degree, St. Mary's University, and an Associate of Arts Degree, St. Charles College. His down to earth communications style together with his caring nature for "persons served" is immediately recognizable by all who know him.
In Detroit, his pioneering involvement through Wayne State University (Law School and School of Social Work) broke new ground in designing support programs for young people who are "aging out" (18 years of age) of foster care. His work at Augustana College in Sioux Falls, SD has developed new models for providing training to foster children/adolescents using Native American medicine wheel imagery. He is a seasoned CARF surveyor with a deep appreciation and respect working internationally with the diverse cultural and rural nature of persons working in the farming, ranching, mining and urban communities. By nature his warm, collaborative nature and serious qualifications has earned him the complete respect of his students, peers and clients.
Loren has helped build strategies for change, simplified information sharing, and assisted organizations in making clearer choices in a complex world.
People in today's world are not only producers but consumers as well. Today, compliments of the Digital Age, we have mountains of information open to us in the form of images, images, research, technology, social media, management science and industry. While in the past we may have we thought limiting our options for information was a rational choice, today's massive scale of change requires management Teams maximize use of all these resource. Health business is continuously spread throughout the digital media.
Moving from the digital realm to face to face consulting may at first seem contrarian. But in people to people interactions our experiences have found Teams expect a certain level of physical presence from top managers, especially as more and more of our business relationships are lived in a virtual reality.
Top leadership of major companies often ask, "Why is it so difficult for us to keep our work Teams focused and effective"? While we always start with the assumption that most staff want to do the right thing, experience has shown it is often difficult for people to determine what the right business solution might be.
Regardless of the adaptation to change, staff have a common set of questions they want answers to:
How will proposed changes impact what we do?
Will our organization continue to have a place in health care?
What new skills are needed to be successful?
Do we have the support necessary through a period of transition?