Managing Change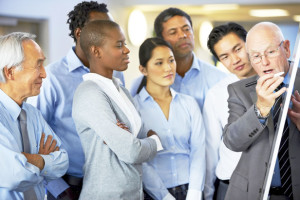 The rules of health behavioral health businesses are changing – which means the role of the healthcare leader is changing as well. So, what will it take to be a top executive in today's increasingly hostile environment? Most likely, it will be the courage to freely admit to ourselves and our team that we're about to face a whole new set of realities. The humility to admit as senior managers we know we don't have all the right answers. But, what we do have is the courage of our convictions – which is to move our health services in a newer, more innovative direction.
The real nature of today's leadership is all about understanding this world of change, then having the ability to correctly interpret and communicate these new realities to the people around us. A manager's vision of the future largely depends on the accuracy in defining specific changes within the environment that will directly impact operations, as well as defining the new financial opportunities they present.
Central to effectively managing change is the management team's ability to clearly identify the organization's mission, values, goals and objectives. In other words, what do we stand for? Can we define any gaps between what we stand for and how we actually perform our duties. Most importantly, How well have we and our team built our long range plan? Does this strategic plan also include a realistic assessment of the strengths, weaknesses, opportunities and threats this operation faces. Between the future market demand opportunities and our team's capabilities, what gaps exist and can we capitalize on them?
The old fashioned idea of leadership usually starts with the false premise that real leaders have all the vision, all the ideas and all the talent necessary to make the operation a success. Under revised theories of modern leadership has come the central idea that today's leaders must develop the future directions of the organization in concert with all the members of the management team, in order to develop a comprehensive and successful strategic plan. And in so doing the combined talents of all the human resources can positively influence the organization's response to problem solving and it's future mission, goals and objectives.
Many health leaders have a tendency to underestimate the external threats they're facing from this rapid rate of change in the environment while inflating their abilities in dealing effectively with change. Living with a false sense of reality is usually a direct result of management's unwillingness to effectively deal with conflict situations.